Scribbles! Font
Diacritic, Symbols, Currencies, and Auto Variant!
---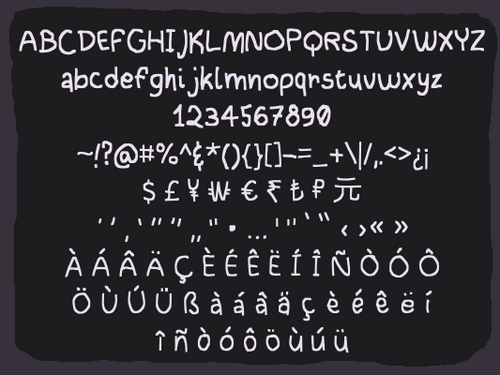 Hey all!
I'd like to thank you so much for purchasing my silly font!
I'm so happy that you all like it and it's really motivating me to continue improving it! I can't wait to see what games you're making with it! :D
This latest updates adds a whole bunch of new characters, including diacritic ones (for French, German, Spanish, Irish, and any other language that uses them), additional symbols, and currency symbols!
This update also includes a new font file: Scribbles Auto! If you use software that supports font variants (like Photoshop), it might be more convenient for you to use this font to automatically (or manually) swap between the base version and the variant version of the letters without having to switch between both fonts!
I've also done some minor tracking, sizing, kerning, baseline alignment, and spacing improvements! Please let me know if you notice anything wonky and I'll do my best to fix the issues in the next update!
Also: I'll be updating it again soon with ligatures, so look forward to that!
Files
Scribbles Font (OTF, TTF)
45 kB
Aug 01, 2021
Scribbles Font Variant (OTF, TTF)
47 kB
Aug 01, 2021
Scribbles Font Auto (OTF, TTF)
90 kB
Aug 01, 2021